"Too Important to Fail"
NCIF coined the term Community Development Banking Institution (CDBI) to identify all high-impact banks, including many that are not certified CDFIs but that have a significant impact in distressed communities. CDBIs surpass the impact threshold for at least one of our two core Social Performance Metrics measuring activity in low- and moderate-income areas (thresholds are 40% Development Lending Intensity and 50% Development Deposit Intensity). NCIF estimates that there are approximately 750 CDBIs revitalizing at-risk communities through responsible financial services.
Banks that surpass both these impact thresholds are considered high-performing Quadrant 1 CDBIs. These banks show a demonstrated commitment to serving distressed communities. The critical financial products and services provided by Quadrant 1 CDBIs create powerful impact in local economies, making these banks Too Important to Fail.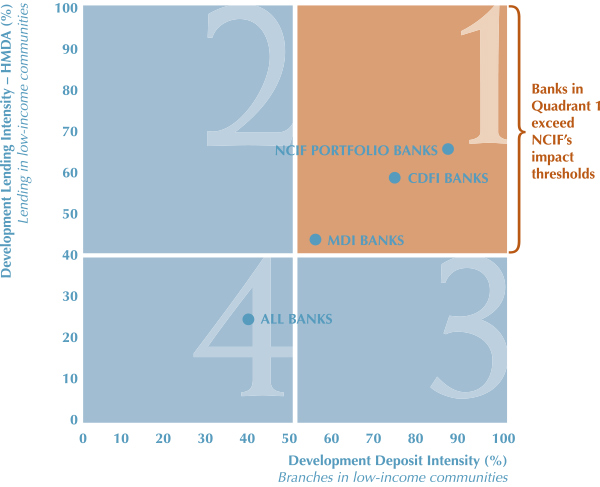 Quadrant 2 CDBIs are banks that meet our impact threshold for Development Lending Intensity-HMDA, meaning that they do over 40% of their HMDA-reported lending in distressed communities. Likewise, Quadrant 3 CDBIs meet our threshold with a Development Deposit Intensity of over 50%, meaning that at least half their branches are located in distressed communities. These banks provide important services in low- and moderate-income areas. NCIF does not pass judgment on banks in any quadrant, although the banks that qualify as Quadrant 1 CDBIs are the most likely to show a deep commitment to serving communities in underserved areas.