Welcome to our network! NCIF connects mission-oriented banks, investors, governmental and regulatory agencies, and service providers in the common interest of growing the industry and serving underbanked communities.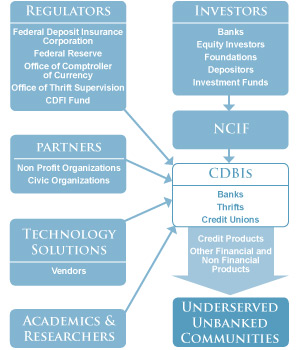 The NCIF Network of Banks is a select group of high-impact mission-oriented banks meeting our criteria for partner institutions. NCIF works to create communities among these banks in order to encourage discussion, collaboration, and innovation and to strengthen our industry. As a result of our close relationship with our partner banks, we are able to create innovative opportunities that address their needs. The NCIF Network allows banks to access resources, grow, and increase their impact.
Get Involved
Join the NCIF Network of Banks! Learn about our partner criteria. Contact us for current opportunities.
Looking for recent photos from our events? View recent photos in our Photo Gallery.
Download a copy of our "Network Wall" image here. This was created by a live artist using Network leaders' words and ideas during the 2013 Annual Conference.