Turning Data Into Action with the BankImpact Dashboards
Is your bank looking for ways to communicate its impact? NCIF can turn your institution's lending and impact data into a detailed Dashboard that can be used to demonstrate your bank's impact to investors, board members, legislators, regulators, and other stakeholders. Using data reporting by the bank including narratives and data regarding your institution, financial products, and lending activity, NCIF can create a custom performance report using robust quantitative and qualitative analysis of your bank's data. 
What are the benefits of reporting?
Third-party analysis of your bank's social impact
Visibility among impact investors and banking peers
Supporting documents and analysis for applications for grants, certifications, and awards
Streamline compliance reporting with aligned metrics for CDFI Fund and other data needs (see more below)
Recognition in as Network Bank throughout NCIF's website, publications, and conference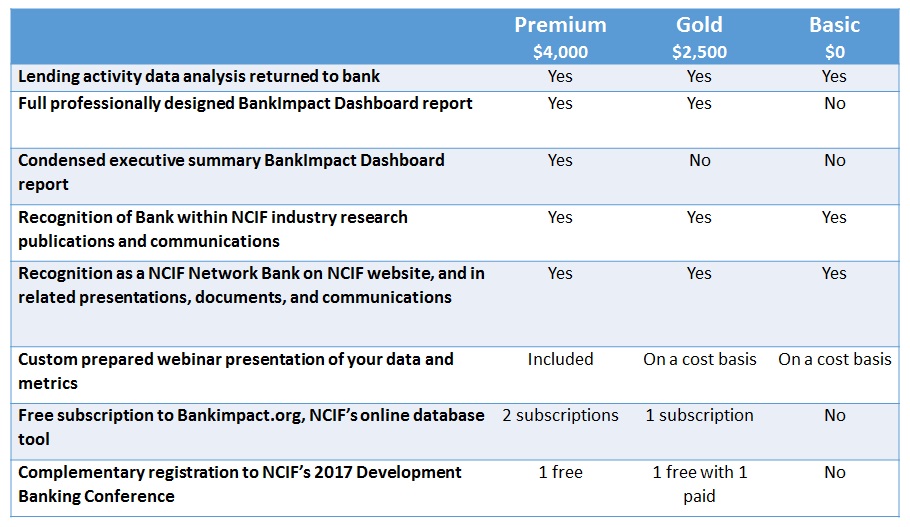 Participating with the BankImpact Dashboard reporting provides a range of benefits for banks. All banks are able to request the geocoded loan level data analysis completed as part of the reporting process, which can be useful within various compliance reporting initiatives, at no cost. Further, all participating banks are able to be recognized as a valued partner in NCIF's Network within our various research publications and communications. 
Gold and Premium level participants receive the additional benefit of receiving a customized, print-ready Dashboard report, which extensively details various financial and social performance metrics. Premium participants also receive a condensed executive summary of the Dashboard report for easier dissemination of your Dashboard metrics and insights. Premium participants also are able to have NCIF staff present your bank's key performance metrics to a stakeholder audience through a webinar presentation. 
Gold and Premium level participants also are able to receive free subscription(s) to BankImpact.org, NCIF's online database tool used to query and analyze performance metrics and conduct peer group analysis of all US banks. Both levels are also able to receive free or reduced registration costs to attend NCIF's 2017 Development Banking Conference. 
Get Started Today
To partipate, each reporting bank must complete the following:
Loan Level Report detailing key information including addresses, commitment amount, date of origination, and if the loans meet your mission as a bank. As each bank has unique mission to best serve the local communities, banks can designate specific types of loans that meet self-determined mission categories (such as green energy, low income borrower, native organization, minority business owner, etc) to show the range of your lending activities.
Survey component which details key demographic information, your products and service offerings, etc. This can be access using the online survey here OR the Word document version attached here. Banks that have reported in the past should contact NCIF for a cross-walked version to easily compare current to past responses.
For more information on how BankImpact Dashboards can benefit your bank and to get started in the reporting process, please feel free to reach out to us via email.
Alignment with CDFI Fund and Other Data Needs
Data collected for the NCIF BankImpact Dashboards can also be used by banks in support of other data needs in several ways. First, data points are aligned with the Global Impact Investing Network's IRIS+ Metrics. This allows for standard definitions and replication of datapoints across other data sources that require IRIS metrics. Second, questions within the NCIF reporting are mapped to CDFI Fund data requirements allowing for reporting banks to use data collected for NCIF to complete applications and reporting, and vice versa. Questions have been aligned for the Bank Enterprise Award (BEA), Financial Assistance (FA), and certification applications as well as CIIS reporting. These additions streamline the reporting process for banks and allows for greater accuracy in the data points provided.