Would your mission-oriented bank like to generate income through a high-impact loan? Could your bank use tax credits to help finance a powerful community project beyond its lending limit?
The New Markets Tax Credit (NMTC) Program is a US government program that helps distressed communities attract private investment capital that will spur economic growth. NCIF engineered a model that utilizes the NMTC Program to allow mission-oriented banks to participate in high-impact transactions with their community partners. As a five-time allocatee with peak $206 million in tax credit allocations, NCIF has partnered in 28 projects using our 3-Way Partnership model.
The NCIF 3-Way Partnership Model
NCIF designed this unique structure to create opportunities for our network of partner banks and to maximize the use of scarce federal resources in low-income communities. Our innovative 3-Way Partnership allows NCIF, a large investor bank, and a mission-oriented bank to contribute to an NMTC project that will revitalize a community in need. We call our program strategy Impact-Plus because it generates both transactional impact (the jobs and services created by the project itself) as well as permanent impact through the creation of stable local businesses and the strengthening of a local mission-oriented bank.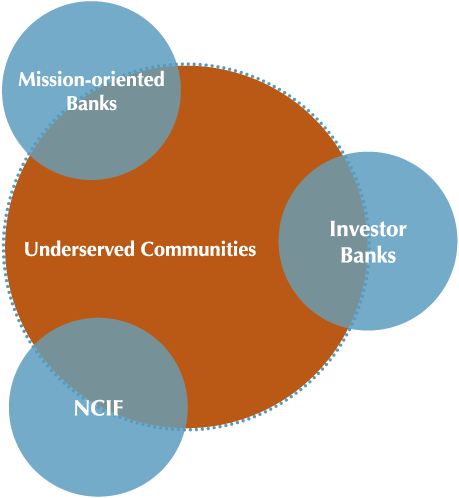 Mission-oriented banks recommend a transformational local project. As a Tax Credit Equity Investor, Leveraged Lender, Direct Lender, or Co-Allocatee, the bank is able to provide opportunities to their communities at a lower financing cost, and with lower risk.
Investor banks provide tax credit equity to the project. The large banks are able to build relationships with community banks and apply that local expertise to meet their CRA obligations in low-income communities.
NCIF deploys NMTC allocations to maximize our impact in some of the most highly distressed communities in the country.
NCIF Impact
NCIF's New Markets projects have created thousands of jobs and met a number of pressing community needs. Read more. For the stories behind each of our development projects, visit our 3-Way Partnership Portfolio.